The Little Glass Hut
The Little Glass Hut is a quaint little house that lends itself well to being a studio and retail outlet for gifts and art. We feature the stained glass of owner Dorothy Ball and showcase the work of other Saskatchewan and Canadian Artists. We are always looking for unique work to display on consignment.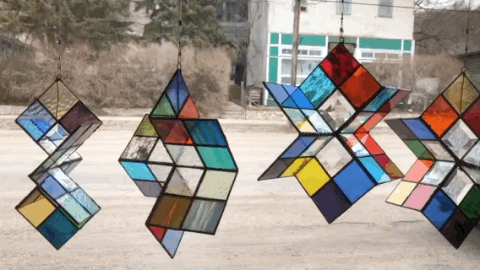 The HUT is on Highway 56 located in Lebret, one of the oldest settlements in Saskatchewan. We are open on Fridays, Saturdays, and Sundays from May to December including statutory holidays.
The beautiful Roman Catholic Church rests on the shores of Mission Lake surrounded by the hills of the Qu'Appelle Valley.
Dorothy Ball
I began doing stained glass over 15 years ago in the mid 1990's. In 2004, my dream of having my own shop became a reality.
You will find me busy making new creations in the back of the store. It's a small area but I find room to teach classes on Thursday evenings.
I enjoy working with people and it is a big thrill for me should you choose to purchase a piece of my work. Knowing that some of my work is traveling to another land is quite amazing to me.
The hummingbird, a regular visitor in the valley, has become my logo. I enjoy making various versions of this hard working marvel of nature. You can find it in my stepping stones, window hangings or just by itself.
Whenever you drive through the valley, stop in and say hello and better yet, buy yourself a keepsake from Lebret. Whether you come from down the road, across Canada or from far away, I love to have you sign my Guest Book.
Whether it's a stepping stone, a night light, an Angel, or a larger window hanging, I'm sure that we can find something you'd like. If not we can design something together.
Commissions Welcome